Free Athletic/Recreational Fields Handbook
---
Everything You Need to Know About Keeping Your Athletic Field Green and Healthy
---
Download our free Athletic Packet, and you'll receive our 23-page ebook on how to successfully maintain the turf on your athletic field.
Learn from the experts — who better to tell you how to grow healthy grass than sod farmers?
Get solid advice used by professionals — no fluff.
Be informed about all the ways you can work magic for your grass.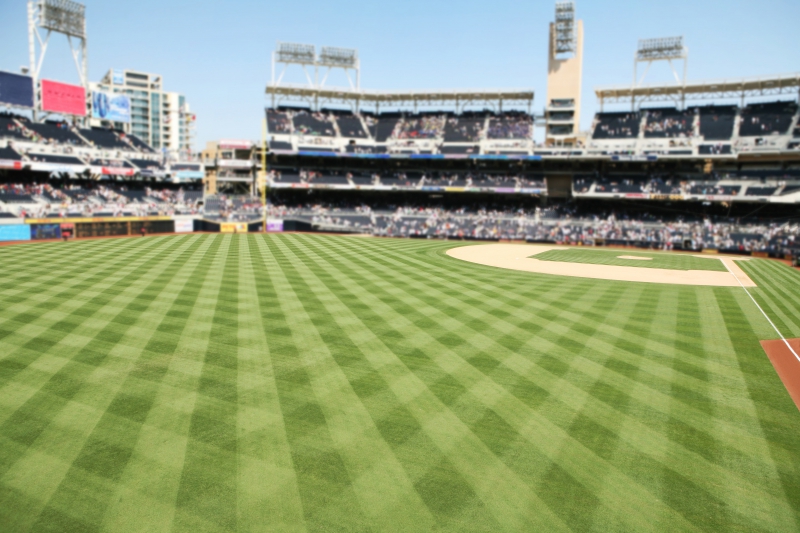 In this free resource, you'll learn industry secrets and turf maintenance tips in all the following categories.

Mowing
Learn the exact amount that you should mow, depending on the type of grass you have and your sports field use.
Discover how to avoid mowing mistakes that cause increased weed presence and increased risk of disease in your grass.
Implement one simple tip that will keep you from losing 25 percent of your soil's nitrogen nutrient.

Irrigation
Find out how the professionals water a field to maintain its quality.
Learn to spot the key indicators that will tell you whether your turf needs more or less water.
Know how to adjust your watering correctly based on your soil type.
Identify the location of any broken irrigation heads.

Over-Seeding
Learn what grass seed works best in the tri-state area of Indiana, Ohio and Northern Kentucky.
Buy exactly the right amount of seed and know precisely how frequently to put it into the ground.
Discover the specific areas where and how much you should apply extra seed to football fields and soccer fields to keep the grass thick through the season.
Put slit seeding onto your calendar at just the right time for the best results.

Fertilizing
Discover how to work with your soil's baseline fertility to apply the right amount and type of fertilizer.
Accurately calculate your fertilizer use requirements with the same calculations the professionals would use.
Learn to read the codes on fertilizer bags and know exactly what you're getting.
Steal or adapt these three separate fertilizer programs that the professionals use to keep turf green and flourishing all year round. You'll get a four-step program, a five-step program and a six-step program, all with real fertilizer types, amounts and dates when you should (and shouldn't) apply them.

Baseball Maintenance
Learn the pro tips on how to set up your baseball field and line up the bases correctly.
Find out exactly how to drag your field without the dirt sticking to the equipment or accumulating on one side of the field.
Use these two simple hacks to remove the water in your infield.
Avoid one common mistake that leaves the field uneven and makes the water ponding area worse in the future.
Make a seamless transition between your infield and outfield, with no lip or edge that could deflect a ball's play.

Aeration
Learn why the professionals aerate the ground and reap the same benefits for yourself.
Understand the different types of aerators, and know how to choose which one to use.
Get the details on how to break up "plow pan" in the ground that has been repeatedly aerated, and get air and water to penetrate deeper into your soil.
Know the right time of year to put aeration on your calendar for optimum results
Discover the things you should never do when you aerate.
But wait, there's more!
When you download the Athletic Field Packet, you will not only get the free sports field maintenance handbook, you'll also get our detailed Athletic Field Safety Checklist. This handy checklist will make it a breeze to ensure that you are keeping your recreation field maintained and safe.
This six-page checklist includes a detailed list of all the things to keep in mind, as well as a convenient "comments" area for note taking. Once you see it, you'll want several printouts. It covers the following categories:
Natural Field Playing Surface
Synthetic Field Playing Surface
Out-of-Bounds Areas
Goals and Goal Post
Field Marking
Fencing
Lighting and General
Bleachers and Facility
Baseball/Softball Infield
Get all this free information today when you download the Athletic Field Packet.
Thank you for choosing Moster Turf, Indiana's sod and lawn experts.